New this year, an exciting group of distinguished contributors and experts have sourced the list of the Best Family-Friendly Places to Fish and Boat. Country music star Luke Bryan headlines this year's lineup, alongside fellow musician Justin Moore, pro football player Alejandro Villanueva and a host of industry experts. The list comes just ahead of an event-filled National Fishing and Boating Week, June 3 – 11. 
Here are the highlights of some of the celebrities' stories:
ALEJANDRO "AL" VILLANUEVA, Professional Football Player

Presque Bay, Lake Erie, Pennsylvania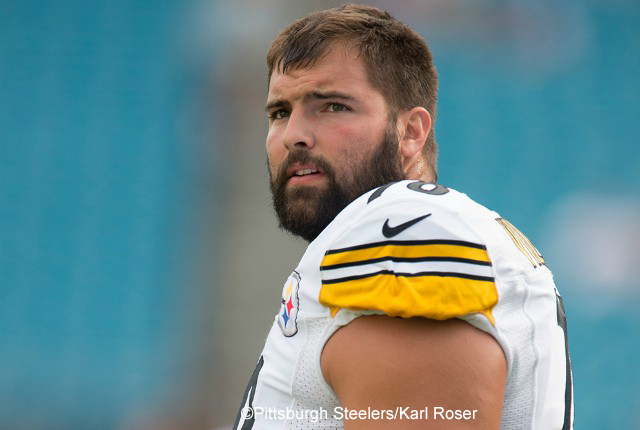 He's a lineman in every sense of the word. One of Al's most treasured childhood memories is catching fish in lagoons. When he's off the field, Al cherishes his time on the water fishing during the summer.
LUKE BRYAN, Country Music Star

Elm Hill Marina, Percy Priest Lake, Tennessee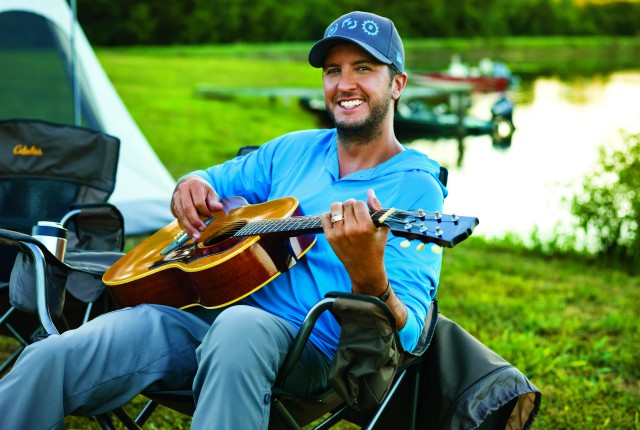 Luke Bryan inherited his love of fishing from his father and started casting lines as soon as his hands could hold a fishing rod. Now, Luke enjoys fishing and boating with his sons because "it's something I can do to get away from the fast-paced world we live in." Per him, "a good fisherman never tells his best spot," so we are very lucky Luke shared his favorite fishing hole with us!
JUSTIN MOORE, Country Singer

Degray Lake, Arkansas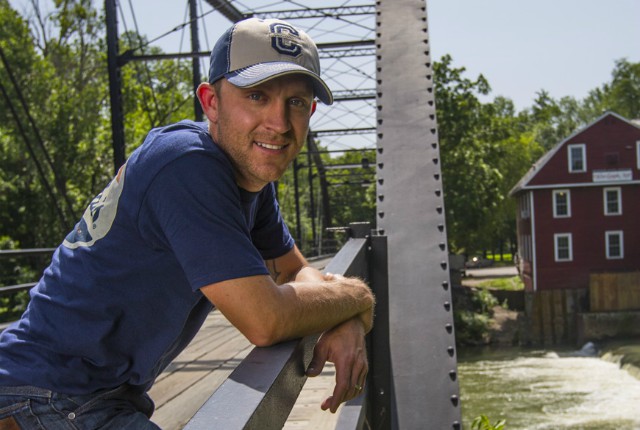 Growing up in the small town of Poyen, Arkansas (population 290), Justin caught "the fishing bug" early on, spending countless summer days floating down the river with his grandpa. Today, he fishes with his own children and has made many wonderful memories on the water. His favorite fishing moment to date was watching his oldest daughter catch her first fish all by herself. Justin's advice for first-time anglers: "Always bring rain gear! I've learned the hard way, unfortunately, that it can pour down when you least expect it."
STEPHEN BARKER LILES, Love and Theft Singer

Old Hickory Lake, Nashville, Tennessee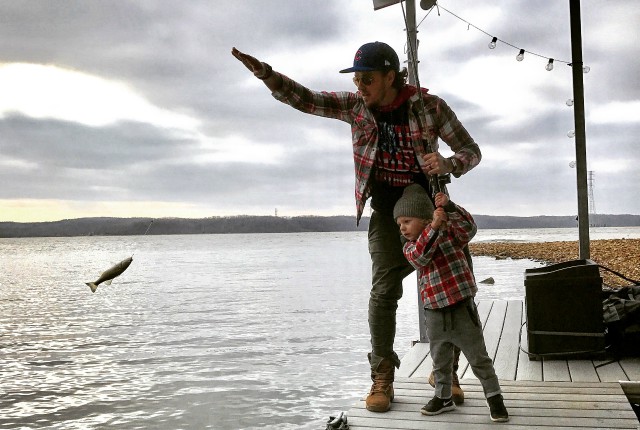 Stephen learned how to fish at his grandpa's side, boating around lakes in Arkansas in an old pontoon that Stephen is in the process of restoring. When he's not on the road, one of his favorite ways to unwind is to take his son bass fishing on Old Hickory Lake just outside Nashville. "My son Jett is obsessed with fishing and he's pretty good at it too. He's a good luck charm for sure. We love to just float around and fish together."
PEDRO SORS, Host of Mexico's Most Popular Fishing Show

South Padre Island, Texas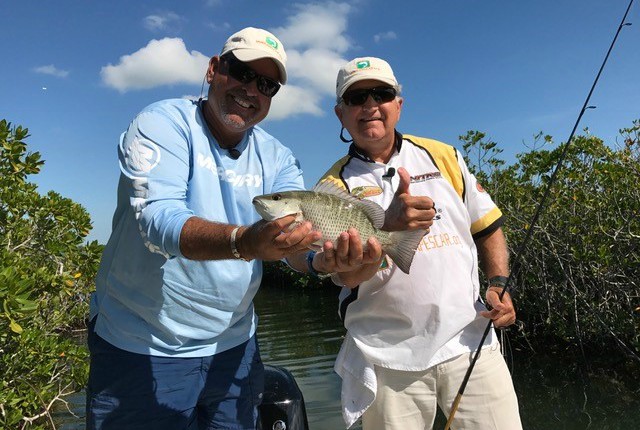 Pedro Sors went fishing for the first time at the invitation of some classmates and has been hooked ever since. He chose South Padre Island as his favorite fishing spot because of its variety of fish species, public water status, family-friendly beaches, and shopping centers and restaurants nearby. For Pedro, fishing and boating give him a "sense of freedom and a connection with nature and myself." He learned the hard way that preparation is essential for a fun day on the water. "One day I went fishing with my father and we spent an hour and half running the boat up river, only to discover that I had forgot the tackle box at home."
NATE AND CHELSEA DAY, Bloggers at #FirstCatch Partner SOMEDAY I'LL LEARN

Buckeye Creek/Bridgeport, California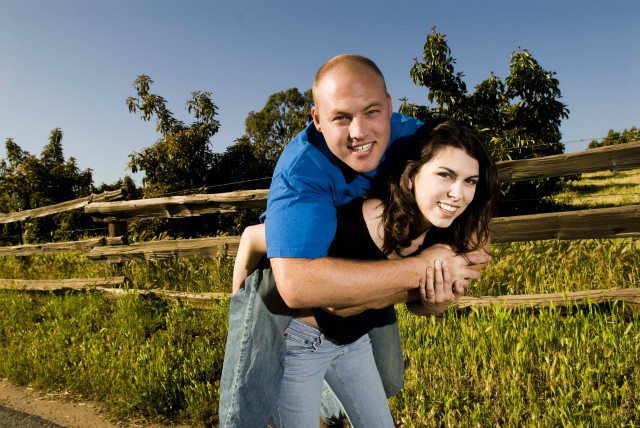 Growing up in the Pacific Northwest, Nate and Chelsea Day were both surrounded by boating and fishing experiences throughout their youth. Today, they are parents of four young children, so it makes sense that their favorite fishing spot is perfectly suited for families both large and small. Brimming with trout and typically uncrowded, Buckeye Creek has tons of kid-friendly access points and plentiful opportunities for observing wildlife. One of their favorite memories made on the lake was when "Our oldest son caught his first fish and we were able to cook it right up and serve it for dinner at the campsite. It was such a sense of accomplishment for him!"
ANDY WHITCOMB, Outdoors Humorist

Presque Isle, Lake Erie, Pennsylvania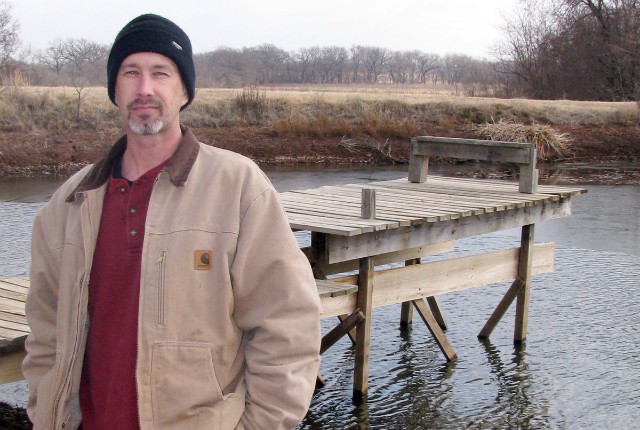 Andy is a self-described "columnist, outdoor humorist and stressed-out dad" with a lifetime of fishing and boating experience. His favorite fishing hole is  Lake Erie, one of the largest freshwater lakes in the world, which is also home to impressive numbers of smallmouth bass, trophy walleye and jumbo yellow perch. Andy is passing on his love of fishing to his children, and never makes a trip to Presque Isle without his son. "I love to take my kids fishing. I'd rather watch them hook up than catch fish myself."
DEBBIE HANSON, Outdoor Writer and Women's Sport Fishing Advocate

Webb Lake, Charlotte County, Florida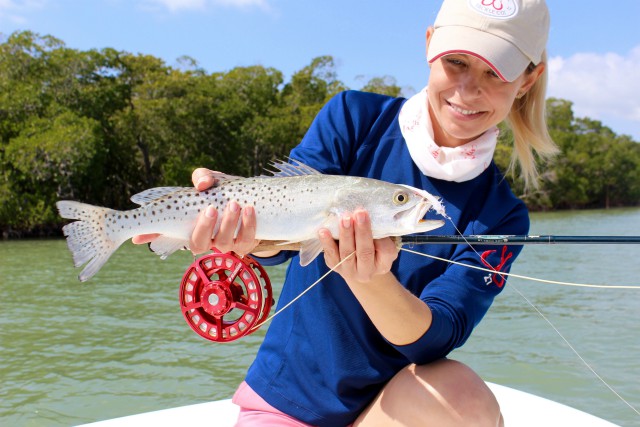 Debbie's passion for fishing and boating began at age five during summers at the lake with her grandparents in Michigan. Since then, she's been a dedicated advocate for getting people, especially women, to explore the outdoors in new ways. Her favorite people to take fishing are her friends' kids and other women who have expressed an interest in fishing, but haven't had the opportunity to get out and do it. According to Debbie, "To see a child's face light up when they get a bite and reel in that first catch, those moments are just plain magic to me."
TOM KEER, Editor and Columnist

Housatonic River, Cornwall Bridge, Connecticut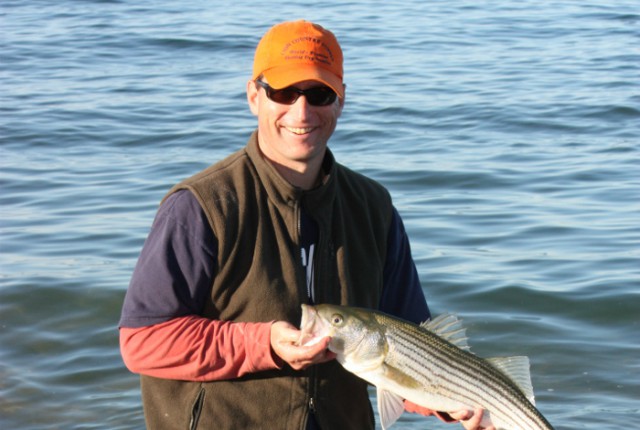 Tom's favorite fishing place runs a whopping 139 miles from Massachusetts to the ocean in Connecticut, making it possible to catch cold-water, warm-water and even saltwater fish along its length. His career has led him to many interesting places, from the bustling urban environment of Boston Harbor to the solitude of the deep woods. One surprising item that he brings on every single trip is a notepad. "I write down observations about fish, what tactics worked and which ones didn't. Over time, I study the patterns that worked so I can do more of them. When I read my journals, particularly ones from a long time ago, they are a great reminder of how many wonderful days I've spent fishing and boating with family and friends."
MICHAEL de AVILA, Host of South Bend's Lunkerville

Central Park, New York City, New York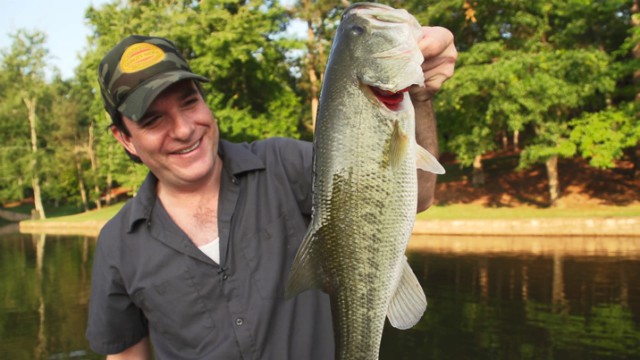 As the host of a TV series dedicated to bass fishing enthusiasts across the U.S. and Canada, Michael has traveled across the continent to fish with local experts and learn their secrets. Surprisingly, Michael's favorite fishing hole is in the middle of New York City. "I often enjoy going by myself for a few hours to break up the day, decompress and escape the bustle of the big city. I grab my fishing poles, hit the subway, and in 30 minutes I'm transported to a beautiful wooded oasis in the middle of one of the biggest cities on earth. It's really an amazing, therapeutic experience."
"I love that it gets people outside, closer to nature and closer to each other. In this day and age of computers, video games, mobile devices and social media, it's more important than ever to discover the simple and important joys of fishing, boating and the outdoors."
CINDY NGYUYEN, Columbia Sportswear Athlete and Professional Angler

Texas City Dike, Texas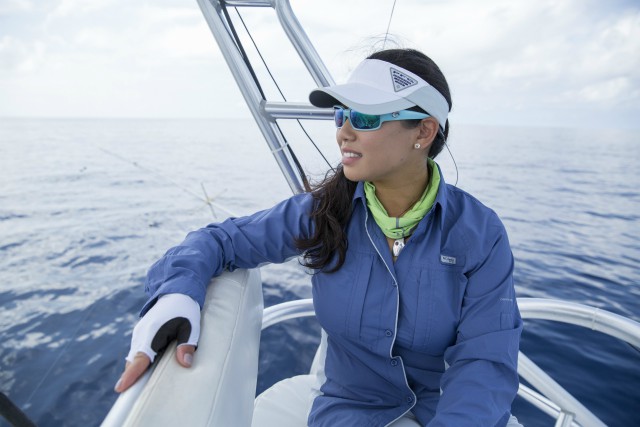 As the daughter of two enthusiastic anglers, Cindy grew up fishing on the beaches, piers and jetties of Galveston and Texas City. To this day,  Texas City Dike remains her favorite place to fish with family and children. She explains, "The best time to take a kid catching and build that passion is in the fall, when the bull croakers and flounder are abundant." Cindy says her favorite parts about fishing and boating are "the charge of gearing up and heading out into nature, the ebbing tides and rising and falling sun, the feelings of excitement that are shared, and the stories and memories that are made."
CURTIS BRABSON, SEM Specialist at Sierra Trading Post

Yellowstone Lake and Madison River, Wyoming
Growing up, Curtis and his parents "spent a ton of time exploring all the amazing fishing locations Wyoming has to offer. Fishing was just something we always looked forward to doing, and it's still a huge passion of mine to this day." For Curtis, there's no better place than Yellowstone, "an incredible ecosystem that's truly wild." The thing he loves most about fishing is "being out in nature and getting to experience some amazing scenery while doing one of my favorite activities. I can go to the same fishing spot 100 times and each time the experience will be different. That's awesome to me."
CHAD AND MARSHA SCHEARER, Hosts of Shoot Straight

Missouri River (Between Holter Dam and Cascade), Montana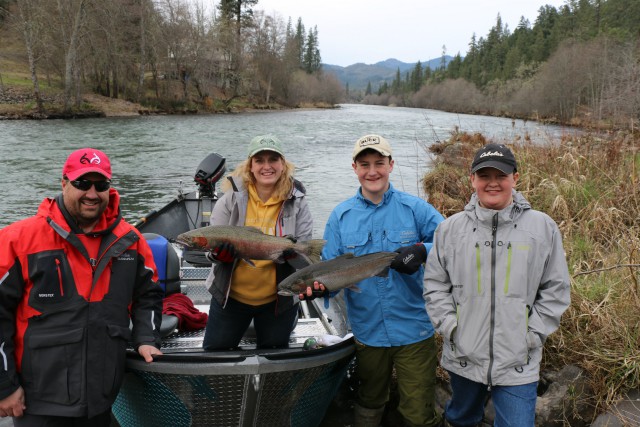 Chad and Marsha, along with their sons, have hunted, fished and explored every corner of their home state of Montana. Their favorite place to fly fish is "The Mighty Mo", one of the state's "Blue Ribbon" trout streams that boasts easy access and incredible fishing. For Marsha, one of the best things about fishing is that "It allows us to be together as a family while enjoying God's great outdoors." They recommend always taking a camera along with your tackle box to capture great memories made on the water.
SHERRY WHITE, Assistant Regional Director of US Fish and Wildlife Service

National Wildlife Refuges/Cash Lake, Maryland
Sherry loves fishing and boating for its ability to bring her up close and personal with nature. She describes the sensation by saying "there's no other feeling like coming alive with the world. Without distraction, I take a pause and notice the same thing I did as a child—the smell of the river, the wind in my face, the sparkle of the sun on the water, and the coolness of air and water on a hot summer day. And if I'm lucky, I feel a fish tugging on the end of my line." Her passion started an early age and has followed her throughout the years.
DAVID WALKER, Bass Elite Angler and Cabela's Ambassador

Douglas Lake, Dandridge, Tennessee
As a pro angler and avid outdoorsman, David has traveled to many picturesque places, but his favorite fishing spot is still the one closest to home. Nestled in the foothills of the Great Smoky Mountains, Douglas Lake has very few houses on its shore, which makes it the perfect pristine getaway to catch largemouth bass, bluegill and more. David's favorite fishing partners are his daughters. "Being able to introduce them to the sport of fishing and being able to teach them how to rig lures and hook crickets is something I know they will always remember."
JAMES NIGGEMEYER, Bass Elite Angler and Cabela's Ambassador

Tyler State Park, Tyler, Texas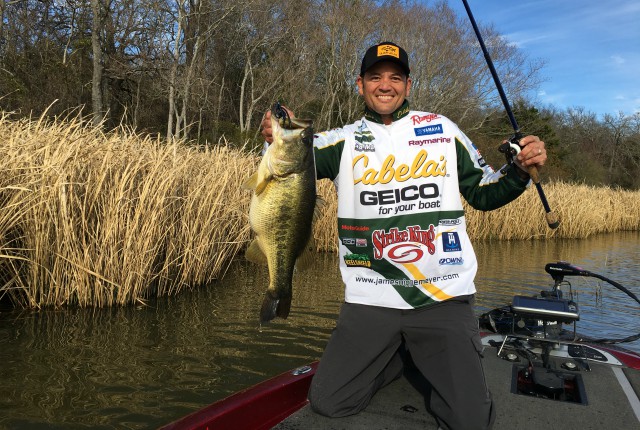 James admits that choosing just one favorite place to fish is a difficult task, but Tyler State Park near his home in East Texas has a special place in his heart. "It's a favorite because it's close to the city, but when you get there it seems like you're miles from anywhere. Being able to break away, get away from it all, even for just a few hours, is one of the special attributes of this hidden gem." The lake also provides a convenient place to spend quality time with his son. "I spend a lot of time on the road, so when I'm home it's the best way for us to break away and eliminate distractions like tablets, television, video games and work, and spend quality time together."
LESLIE WELDON, Deputy Chief for National Forest Services

Metolius River, Deschutes National Forest, Oregon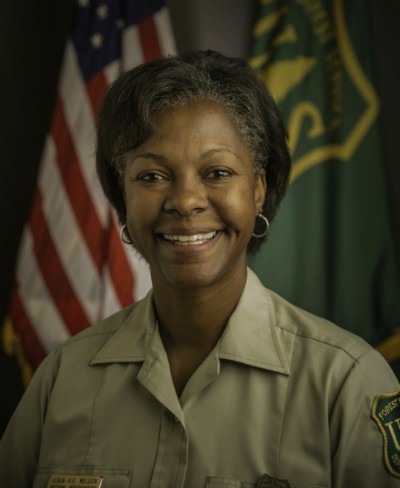 As Deputy Chief for the National Forest Services, Leslie oversees some of the wildest and most scenic places in the nation. Her favorite fishing hole is  the majestic Metolius River, in the heart of the Central Cascades near Sisters, Oregon. This family-friendly spot has camping facilities for tent, backcountry and RV, and boasts a "world-renowned Blue Ribbon fishery for rainbow trout that tests the skills of the most seasoned angler."
BOB JENSEN, Walleye Angler and TV host of "Fishing the Midwest" and "School of Fish"

Clear Lake, Iowa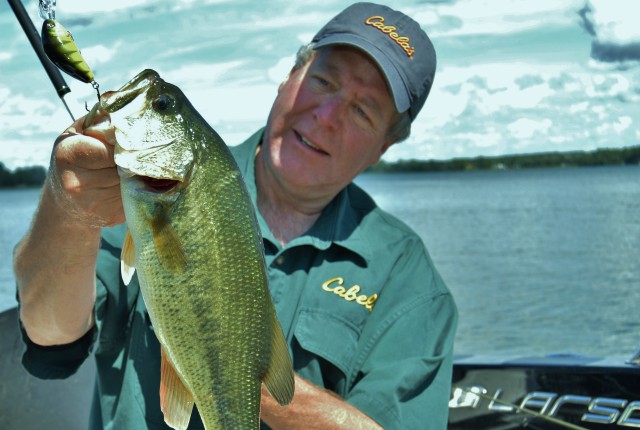 For Bob, Clear Lake is much more than just his favorite fishing hole; it's a success story that shows what water conservation, strategic dredging, responsible fishing and good old-fashioned hard work can do for a body of water. For years, Clear Lake was muddy and unappealing to anglers, but all that has changed in recent years. "Clear Lake is a true success story that was created by lots of folks, professionals and volunteers. Going forward, it's going to continue becoming a body of water that will create so many wonderful memories. Whether you enjoy fishing, water sports, bird and wildlife watching, camping, or pretty much any other outdoor activity, you can take part in those at Clear Lake."
CURTIS NIEDERMIER, Editor-in-Chief of FLW Bass Fishing Magazine

Kentucky Lake, Kentucky

Curtis has enjoyed fishing his entire life. Growing up, he discovered every farm pond surrounding his home. He now shares the joy of the sport with his wife, who gets more excited about it with each catch. When reeling them in, Curtis always brings a camera to capture moments both big and small to show everyone he never tells a "fisherman's tale."
Check the The 2017 Best Family-Friendly Places to Fish and Boat to see if your favorite spot made this year's list. 
---
You Might Also Like